OAK FRAMED KING POST TRUSSES
OUR KING TRUSS POST PRICES FROM:
View the full range of our Oak King Post Trusses including prices for 3m to 6m Spans. For bespoke sizes and designs please contact us today.
For best results, please turn your mobile device to landscape to read the price charts…
(NB. For Full Prices add VAT)

| TRUSS CODE | DESCRIPTION | 3 to 4m | 4 to 5m | 5 to 6m |
| --- | --- | --- | --- | --- |
| See Images | (Main Beam Sizes) | (18cm x 15cm) | (20cm x 15cm) | (22cm x 15cm) |
| A | KING TRUSS | £1820 | £2175 | £2490 |
| B | RAISED KING TRUSS | £1975 | £2335 | £2645 |
| C | OFFSET TIED KING TRUSS | £2060 | £2405 | £2915 |
| D | TIED KING TRUSS | £2060 | £2405 | £2915 |
| E | KING & QUEEN TRUSS | £2060 | £2405 | £2915 |
| F | CURVED TIED KING TRUSS | £2175 | £2565 | £3115 |
| N | UNDER BRACED KING | £2625 | £3000 | £3580 |
Oak Trusses – Green Oak King Post Roof Truss Prices UK
Cross Reference Your Table Prices With The Trusses Below & Contact OTF Today...
TRUSS A
KING TRUSS – (works well for short spans)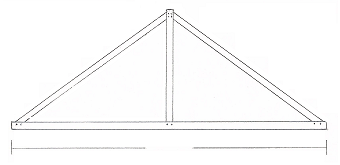 TRUSS B
RAISED KING TRUSS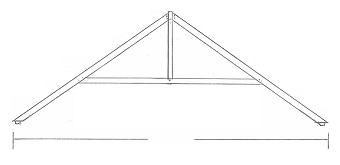 TRUSS C
OFFSET TIED KING TRUSS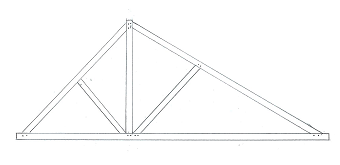 TRUSS D
TIED KING POST TRUSS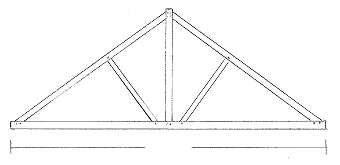 TRUSS E
 KING & QUEEN TRUSS (Ideal for glazed gable end)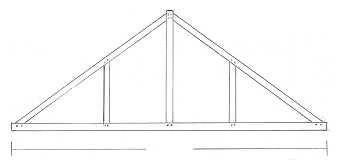 TRUSS F
TIED CURVED KING TRUSS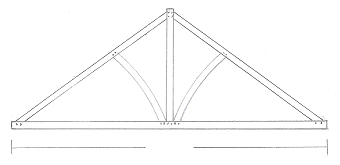 OAK TRUSS RANGE – KING POST
The full range of our oak trusses encompass all options that could required for almost any type of build. At OTF Builders we are able to design and construct oak trusses to high tolerance specifications spanning a breadth of sizes from 3m to 7m and for bespoke sizes above the norm where required.
There are many king post truss configurations which are largely suitable for short spans, here are just a few of the common king post truss types which are priced and featured above:
OAK KING POST TRUSS – An A frame truss with a centre post, which so defines it from a queen truss which has no centre support.
RAISED OAK KING POST TRUSS – An A frame truss with centre support where the 'chord' / cross beam or tie beam is joined to a the frame vertically further up the angled supports.
OFFSET TIED OAK KING POST TRUSS – An unequal triangular framed truss whereby the usual centre post is offset to one side or the other of the centre point of the cross beam. The tie beams are added for additional support with the frame being unequal in terms of angled support lengths. Ties extend from the base cross beam and are designed to join the angled supports wherever the load bearing requirements are best served.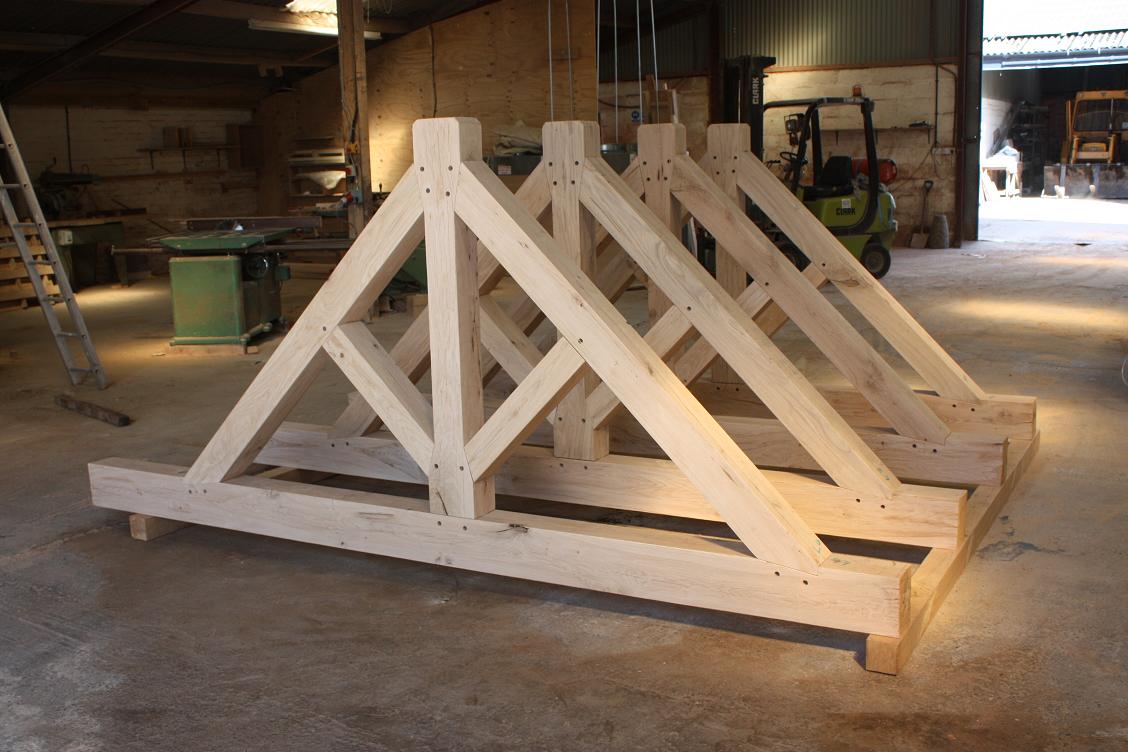 The traditional Tied King Post Truss is used for better load bearing than a standard king post truss, however it can sometimes also be used in either a straight tied or curve tied variation for aesthetically more appealling results when designed to be exposed.
HAND-CRAFTED GREEN OAK KING POST TRUSSES
The above examples are just a few of the types and designs of green oak King Post trusses which OTF Builders can readily produce.
Prices are published as a guideline for small or one-off requirements. For larger or more bespoke King Post truss orders with design modifications to size, structure or finishing and for either exposed or enclosed applications, please contact us for a full quotation.
Your OTF Builder's King Post truss will be manufactured using air-dried green oak, sourced from reliable suppliers and built entirely on location at our workshops by our artisan carpentry & joinery team, who share over 65 years experience. Please do not hesitate to contact us with your enquiry. We will only be too pleased to assist you with whatever project you have in mind.